Dental Safari will be coming to District #300 on April 25th and 26th this year for all students enrolled in Pre-K thru 12th grade! They provide a super convenient dental service that provides cleanings, examinations, and fluoride treatments. When needed, they will also call you and set up return dates for other needed dental procedures like fillings and repairs. If you register your child for a cleaning and exam, Dental Safari will see your child during the school day and provide the required dental exam form for students in kindergarten, 2nd grade, 6th grade, and 9th grade. It will also meet those grade level requirements for next year! The link below will take you directly to the Dental Safari registration page. Feel free to call the District #300 Nursing Office at (618) 542-2646 ext 1060 with any questions. To register, please go to
www.dentalsafariforms.com
.

Congratulation to Ashton, the first student member of the Million Words Club at Du Quoin CUSD. The "Million Word Club" is a competitive program for high school students and district faculty to read a million words or more. Students reaching one million words read are recognized with a certificate and club member t-shirt. Ashton is the first member and a freshman at Du Quoin High School. Pictured are Diana Rea, District Curriculum Director, Ashton, and LaTasha Baxter, Freshman English Teacher.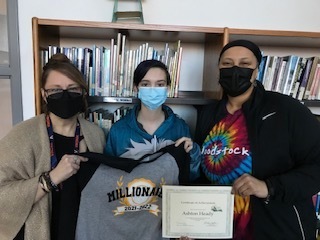 Dear District 300 families, I write to ask for your patience and understanding as our district navigates the latest changes to the COVID-19 guidance and rules for Illinois schools. If you're like me, your patience is wearing thin on the frequent changes and even with some of the measures that schools are asked to adhere to. Nevertheless, we do need some time to see where things are going at the state level. If you haven't yet heard, on Friday afternoon, an Illinois judge ruled on a lawsuit filed by more than 700 parents across the state that challenged state-mandated COVID-19 mitigations. At this time, we are in the process of reviewing the judge's decision and will communicate with you as soon as possible whether this ruling impacts District 300 students and staff members. Until then, I ask for your patience as we review this decision, receive additional information, and confer with other school districts in our area.. Thank you for your continued support of our students, faculty, and staff. While it has been a difficult year, we will continue to push forward together and I have optimism for the future. Sincerely, Matthew Hickam, Supt.

This is a message for District 300 families. Du Quoin schools will not be in session on Friday, Feb. 4, due to the impacts of the winter storm. Everyone stay safe.

This is a message for District 300 families. Due to the winter storm, Du Quoin schools will not be in session on Thursday, Feb. 3, 2022. We hope that everyone is able to stay safe and warm. Thank you

This is a message for District 300 families. Du Quoin District 300 schools will be dismissing at 1:00 PM tomorrow (Wednesday, Feb. 2) due to the predicted timing of the winter storm. Students will be provided lunch and busses will be running their normal routes. There will be no 21st Century/Arrow Academy after school programming on Wednesday. Thank you

There is no after school programming Wed., Feb. 2.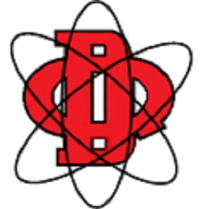 With winter weather forecasted for this week, there's no time like the present to download our new app! Access documents, news updates, and emergency notifications, right from your pocket. Download for Android:
http://bit.ly/2Bgnfih
Download for iPhone:
https://apple.co/2OPk0GD

URGENT NEED FOR BUS DRIVERS School transportation companies and school districts are experiencing driver shortages across the country. While big city districts get the news headlines, small town school districts are also facing the same challenge and our transportation provider is in URGENT need of drivers. Bus driver positions are available now. Please see the information below for details. DURHAM SCHOOL SERVICES- DUQUOIN IMMEDIATELY HIRING DRIVERS! · $14 per hour - No Experience Necessary · Up to $1000 Employee Referral Bonus (NO LIMITS!!) · CDL Training Provided and Paid Company Training · Paid Weekly · 4 Hours Per Day Guarantee · Up to 40 hours/week · Medical, Dental, Vision and Company Paid Life Insurance · 401K with Company Match · Summer Work Available if Interested / Summer Unemployment · Paid Time Off and Paid Holidays · No Nights, No Weekends, & No Holidays · Child Ride-Along Contact Tracy Taylor with questions or to apply. 618-790-4306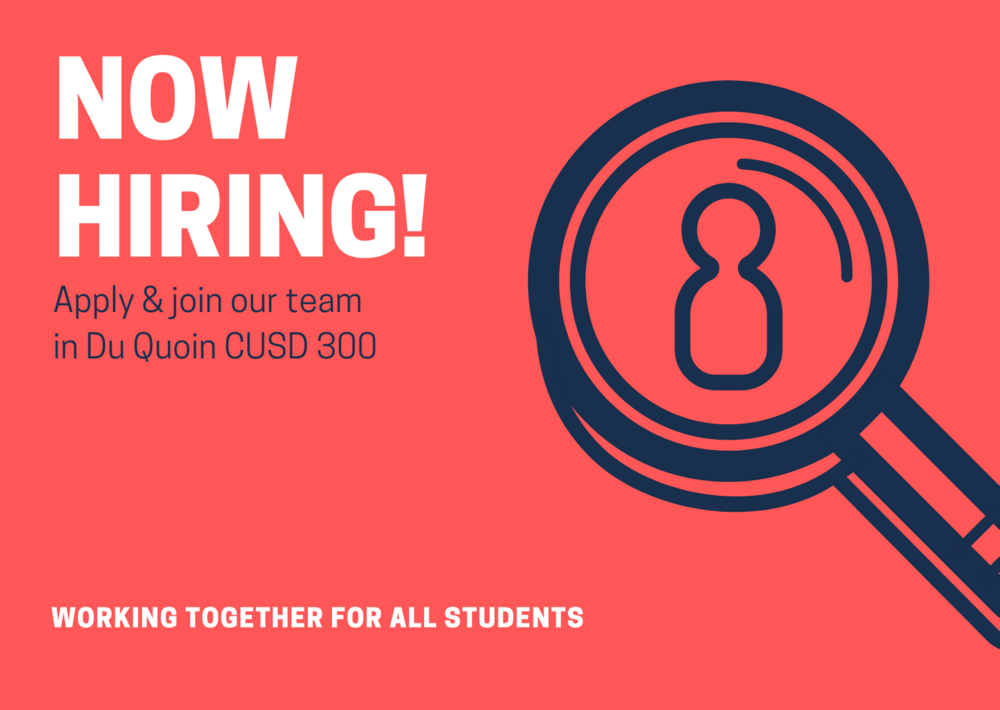 Du Quoin District 300 schools will be returning to our regular dismissal times next week (the week of January 24). While COVID numbers continue to impact us, we have thankfully seen improvement from last week. We understand that changes in our schedule can be challenging to deal with for families and we appreciate your patience and flexibility. Thank you

The 21st Century after school program will be in operation next week, Jan. 18-20, beginning at the 2PM early dismissal. Program dismissal will be at 5:15 PM time. More details can be read in the following 21st Century news.
https://www.duquoinschools.org/article/628423

District 300 Families, As many of you know, COVID is impacting our faculty, staff, and students significantly right now. We have been piecemealing our way through each day this week with the help of our faculty/staff and we are going to do whatever it takes to get through our school day on Thursday. On Friday, Jan. 14, we will be using an Emergency Day in light of the increasing impacts of COVID. Friday will be treated as an Emergency Day (as a snow day would be). There will not be remote learning activities on Friday. We hope this time will allow for some recuperation among families and have our faculty/staff in a healthier place to begin the new week. If you have any questions, please reach out to your child's school during regular school hours. Thank you




JOB POSTING: Instructional Aide Position We are currently seeking applicants for an instructional aide position which will serve students at our elementary school. This is a full-time position and individual health insurance is provided to our employees. Applicants for the instructional aide must meet the qualifications to be a school paraprofessional in Illinois. Those qualifications are as follows: - At least 19 years of age - ONE of the following: -Associate's degree or higher -60 semester hours of coursework -High School Diploma or GED and a score of 460 or higher on the ETS Parapro -High School Diploma or GED and the following scores on the ACT Workkeys: Applied Mathematics/Applied Math (with a score of 4) Reading for information/Workplace Documents (with a score of 4) To apply, please complete a Support Staff Application. A District 300 Support Staff Application can be accessed and downloaded from our website at this link:
https://www.duquoinschools.org/browse/53919
. Applications may be returned by e-mail to Administrative Assistant Denise Hirsch at
dhirsch@duquoinschools.org
or turned in at the District Office at 845 E. Jackson St. Applications should be turned in by 3:00 PM on Monday, November 22, 2021. If you have any questions regarding the position, please call the Du Quoin CUSD 300 office at 542-3856.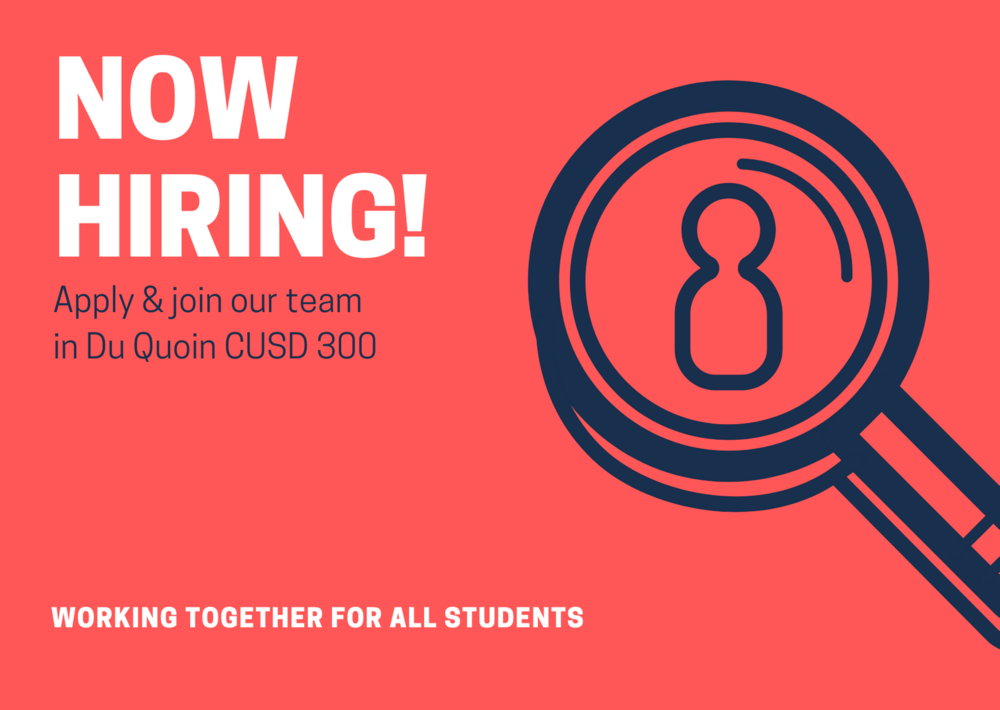 Du Quoin High School FCCLA is planning a free food giveaway for World Kindness Day. FCCLA will be helping 100 families by handing out gift cards to be used at a local grocery store. Where: Du Quoin High School When: November 12, 2021 Time: 7:15--7:45 AM. The goal of this event is to hand out 100 gift cards to families to help with groceries. Last year we handed out the actual food, this year we are giving gift cards so the recipients can choose what they need in their home. Our FCCLA had an awesome fundraiser this fall and we want to give back to our community. World Kindness Day just seemed to be a good day to do this. FCCLA stands for Family, Career and Community Leaders of America and is the student organization of the Family & Consumer Science Department at Du Quoin High School. The student organization is headed by an officer team of Lexi Cobin, Lauren Bauman, Addi Darnell, Ella West, Avrey McClanahan, Delainey Griffin, Madison Soto and Anaida Melendez. There are about 50 members in the DHS FCCLA organization.