JOB POSTING: Substitute Aide Position at DMS We are currently seeking a long-term substitute aide at the middle school to supervise the in-school suspension room. Those interested in the position or those with questions regarding the position are asked to contact Principal Aaron Hill at Du Quoin Middle School at 618-542-2646.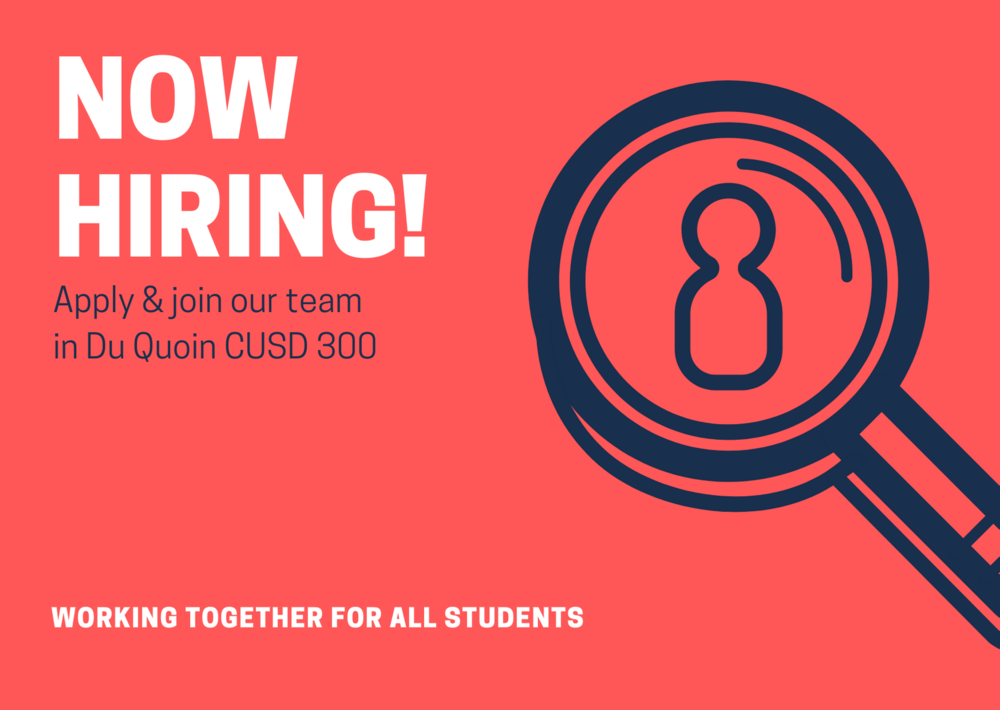 The 21st Century program in partnership with Cedarhurst Center for the Arts invites you to join us this Thursday, Oct. 13 from 7-8 pm in the DES-DMS Commons for a fall family art event. Participants will create a clay design in the fall theme guided by Jennifer Sarver, Director of Education, from Cedarhurst. The event is for the whole family. All students must be accompanied by an adult. The event is free for Du Quoin CUSD 300 students and family members enrolled in the 21st Century program. Come out and join the fun!


JOB POSTING: Individual Student Aide Position We are currently seeking applicants for an individual student aide position at Du Quoin Middle School. This position will provide health related services to a student with special needs. Applicants who are certified nursing assistants will be given preference. This is a full-time position and individual health insurance is provided to our full-time employees. Applicants for the aide positions must meet the qualifications to be a school paraprofessional in Illinois. To apply, please complete a Support Staff Application. A District 300 Support Staff Application can be accessed and downloaded from our website at this link:
https://www.duquoinschools.org/browse/53919
. Applications may be returned by e-mail to Administrative Assistant Denise Hirsch at
dhirsch@duquoinschools.org
or turned in at the District Office at 845 E. Jackson St. Applications should be turned in by 3:00 PM on Friday, October 14, 2022. If you have any questions regarding the positions, please call the Du Quoin CUSD 300 office at 542-3856.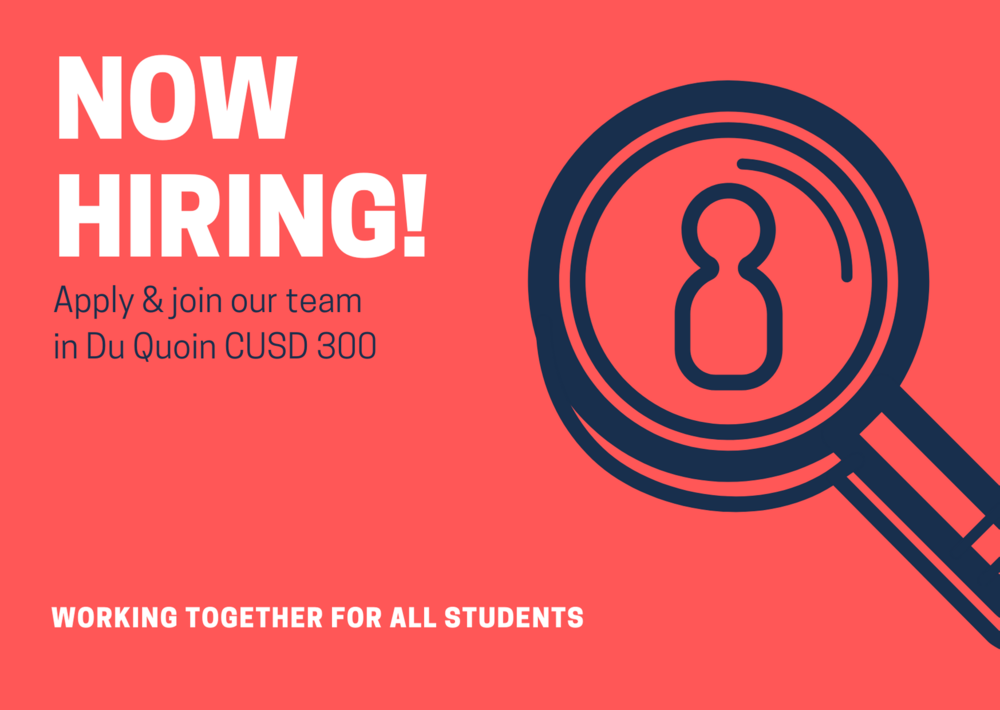 21st Century Program Families, We thank you for your continued support of our afterschool programming. However we do provide this reminder of our attendance policy for the new 21st Century grant. We are not a childcare or latchkey solution, but a program with attendance goals directly tied to our funding. We are proud to offer this program to our community without charges and fees. Therefore, students are expected to stay until the 5:20-5:30 pm dismissal on days in attendance. Special situations will be considered on an individual basis. If you need to discuss your student's participation, contact me at 618.542.2856. Diana Rea, 21st Century Grant Director


21st Century families, As a reminder we do not hold the afterschool program on Fridays. If you need to make transportation arrangements, please contact the school office at 618.542.2646. Diana Rea, 21st Century Grants Director



Du Quoin High School students and families, Enrollment forms and an informational flyer will be available during the Back to School Welcome event tonight in the high school gym from 5:45 - 6:30 pm. Look for Diana Rea and Kailah Kelly in the gym!
https://duquoinil.sites.thrillshare.com/article/812991

DES/DMS parents and guardians, This is a reminder that our elementary and middle school are hosting an open house this evening from 6:00-7:30 PM. This will be a chance to meet teachers and visit classrooms. We hope to see many of you later this evening!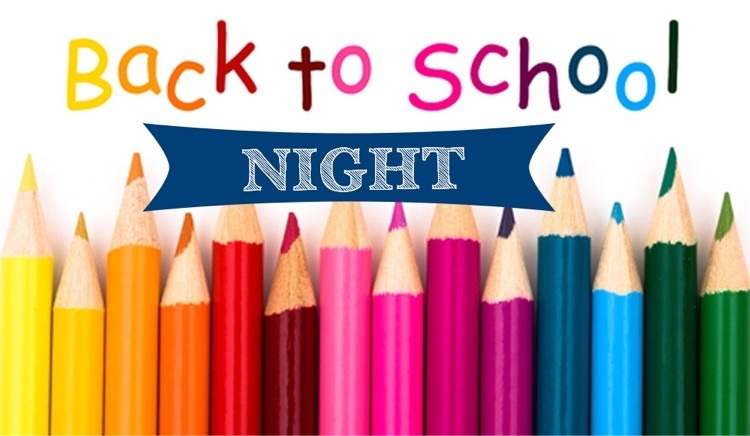 School is right around the corner starting Mon., Aug. 15! Now is a great time to download the district app so you can stay up-to-date on "all things Du Quoin Schools" and get notifications. Use the app to find out what's for lunch in the Dining section and keep informed on activities, sports, early dismissals and more in Events. Search for DuQuoin CUSD 300 in your app store or scan the QR code in the photo.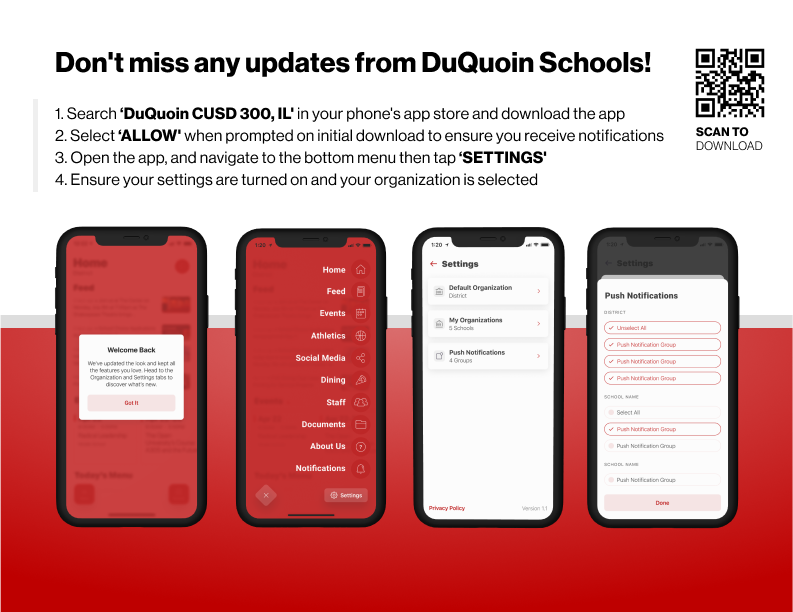 The Du Quoin District 300 Educational Foundation would like to thank our Foundation-level and Event-level sponsors, as well as our business/organization sponsors and hole sponsors of the 16th Annual Jim Booker Memorial Golf Scramble: $1,000 Foundation Sponsor: AFLAC - Estel Hoffard $500 Event Sponsor: Grady & Carolyn Sorrows Businesses & organizations / hole sponsorships: Alongi's Restaurant Banterra Bank Matthew Benson, Attorney at Law Bigham, Tanner & Foster, Attorneys at Law Bovinette Insurance Agency Boyt Engineering Campanella & Campanella, Brothers at Law The City of Du Quoin Common Goal Systems Jeff Cook Pools CTS Technology Solutions Du Quoin Education Association Du Quoin State Bank Sam Easterly / Regions Bank Fare Foods Corporation Fenton's Custom & Collision First Student First Mid Wealth Management / Rich Gossett Zach Gooden, State Farm Insurance Matthew Hickam for Regional Superintendent Chad Howard Insurance Planning & Management / Greg Toensing The Kelly Family Knight Hawk Coal Jodi Koester, Perry County Treasurer Monte Kuhnert, Wells Fargo Advisors Lee's Sports Steve Marek, Country Financial Ruth Mathis McPherson Automotive, Inc. Jeff & Paula Myers Chuck & Mary Jo Novak Perry County Counseling Center Rice Sullivan LLC The W Restaurant White & Borgognoni Architects Yondr Inc. Zimmerman Chiropractic Thank you for helping raise over $10,000 for student scholarships and classroom mini-grants for teachers!


Free grab & go meals are now available at lunchtime for children up to age 18! This is now available at the pool and Keyes Park distribution sites through the Du Quoin CUSD 300 Summer Food Program! See the attached pic for more details.