District 300 Families, As I'm sure many of you have heard, the Center for Disease Control released updated guidance for schools in preparation for the 2021-2022 school year. This information was released last Friday. I will be presenting a tentative plan for the upcoming year at our meeting of the Board of Education this evening. I have recorded a message for you all related to my work on developing this tentative plan. You can view the message at this link:
https://drive.google.com/file/d/1s65rsUXKkq0RUFWuPwhwDzYfwXJnKq8t/view
I hope the information in the message is helpful. The turnaround has been quick and there is more work to be done. The principals and I will be sharing more information soon, including the details of the plan once it is finalized. The good news is that our plan continues to be for full-time, in-person school and the CDC's guidance supports our ability to be able to do that for 2021-2022. We appreciate your patience, your support and ongoing cooperation. We are looking forward to a school year with our students in-person for full days and weeks. Respectfully, Matthew Hickam, Supt.

It is with regret that we share information about the loss of one of our recent students, Dajon Johnson. It is our understanding at this time that Dajon, just 19 years old, tragically passed away in a residential fire. Our thoughts and prayers go out to the family and friends of Dajon. Coping with the death of someone so young is never easy. Family and friends feel the loss most intensely and we all mourn the loss of a life at such a young age. To help our students who are hurting and grieving, our high school is making counselors/social workers available today (Friday) from 8:00 AM-12:00 PM at the high school. The Perry County Counseling Center is also available to provide support to those in need. You can reach out to the Perry County Counseling Center at 618-542-4357 and this helpline is available 24 hours/day. We are saddened by the loss of Dajon and our schools will do what we can to provide support. Please keep Dajon's family in your thoughts and prayers. Thank you, Matthew Hickam

Our afterschool programs, known as Arrow Academy and Arrow High, were profiled in the most recent edition of the newsletter, Illinois Quality Afterschool Quarterly. We appreciate the recognition of our program! You can read the profile at this link:
https://iqa.airprojects.org/quarterly/summer2021/DuQuoin-CUSD-300.html
Incidentally, the profile references the junior chef program which happens to be coming up next week from June 28-July 2 from 8:30-11:30 AM. This program is for students in the 6th-8th grades (younger students may register is space is available). If you're interested in enrolling your child, please call the DES office at 618-542-2646 and speak with Miss Kailah Kelly.

Yearbooks can be picked up today at the high school until 1 PM!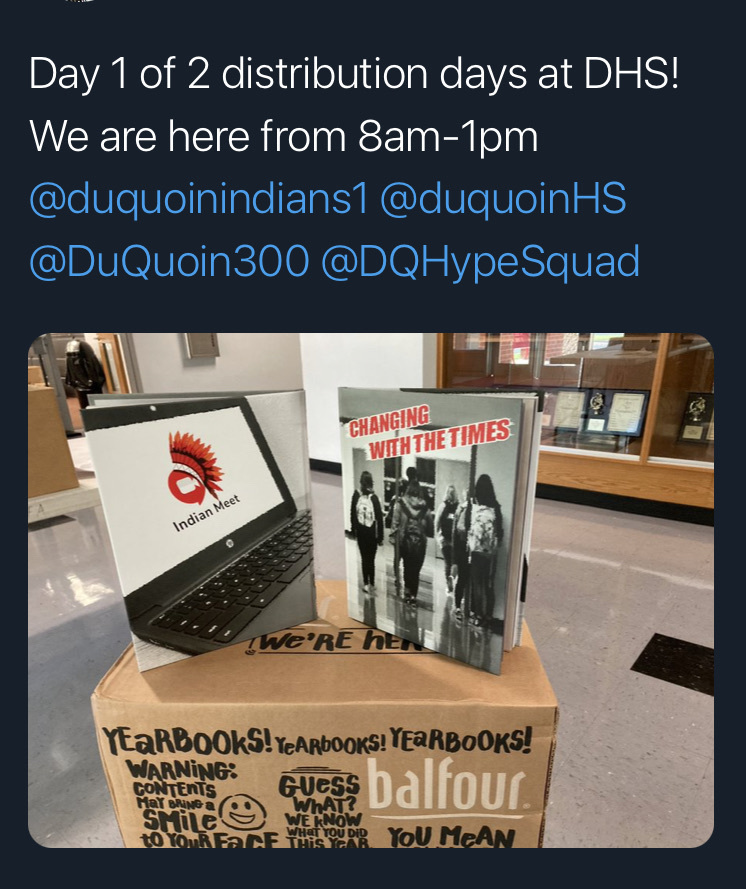 The IHSA State Meet for boys' track & field will mark the end of our school sports season for 2020-2021. What a great way to end the season! Proud of our SIRR Mississippi Champs and IHSA Sectional Champs!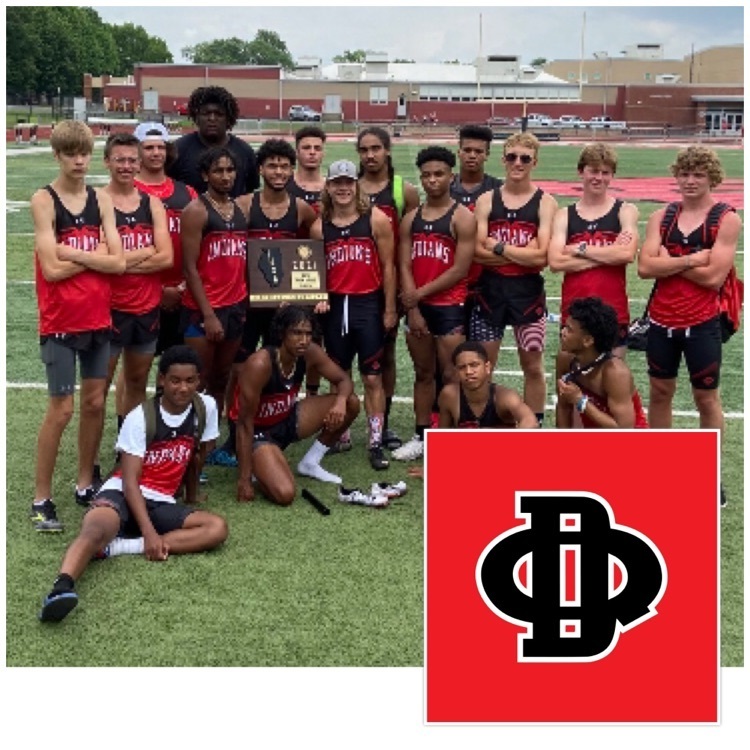 2021 Pullis Family Scholarship now available through the District #300 Educational Foundation Scholarship Program: The District #300 Educational Foundation has announced it is now accepting applications for the 2021 Pullis Family Scholarship (formerly known as the Rosemary Pullis Scholarship). Dr. Michael Pullis, son of Rosemary and George Pullis, re-named this scholarship four years ago in memory of the contributions his parent's made to students throughout their careers in education. The Pullis Family Scholarship is available to recent DuQuoin High School graduates who have completed at least their first or second year of college, will be enrolling as a sophomore or junior, and are majoring in one of the following areas: Education, Counseling, Social Work, Nursing, Pre Med, or other profession that seeks to help others. Academic record, future promise of academic achievement and need are the criteria in consideration in the awarding of this scholarship. This scholarship which has been in place since 1985 has provided over $35,000 in assistance to past DuQuoin High School graduates. It will again be a $2,000 award and will be selected by the District #300 Educational Foundation Scholarship Committee. Applications for the Pullis Family Scholarship are available by contacting Sharon Childs at the District #300 Central Office, may be submitted in typed or electronic form, and must be received by Friday, July 16, 2021 for consideration. The District #300 Educational Foundation is honored and thankful to continue our partnership with Dr. Michael Pullis as a way to continue the tradition of this scholarship. This scholarship has continued to fulfill its original purpose in providing assistance to college-level students as they pursue professions that benefit others.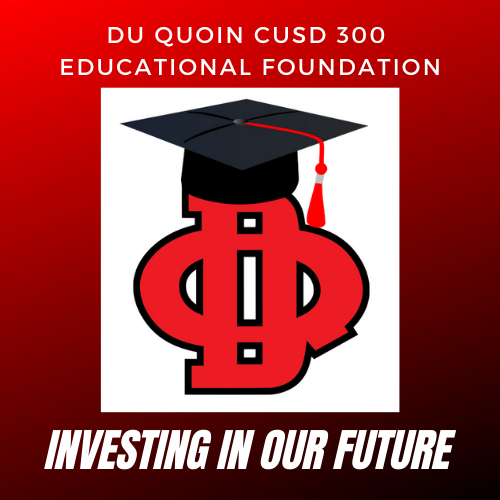 While most of this year's "summer" sports seasons have concluded across Illinois, two of our teams are still going....to the State Track & Field Meet that is! We're so proud of our SIRR Conference Champion and IHSA Sectional Champion girls' and boys' teams! Wishing good luck to our girls on the campus of Eastern Illinois U. today! The DHS Class of '21 isn't done.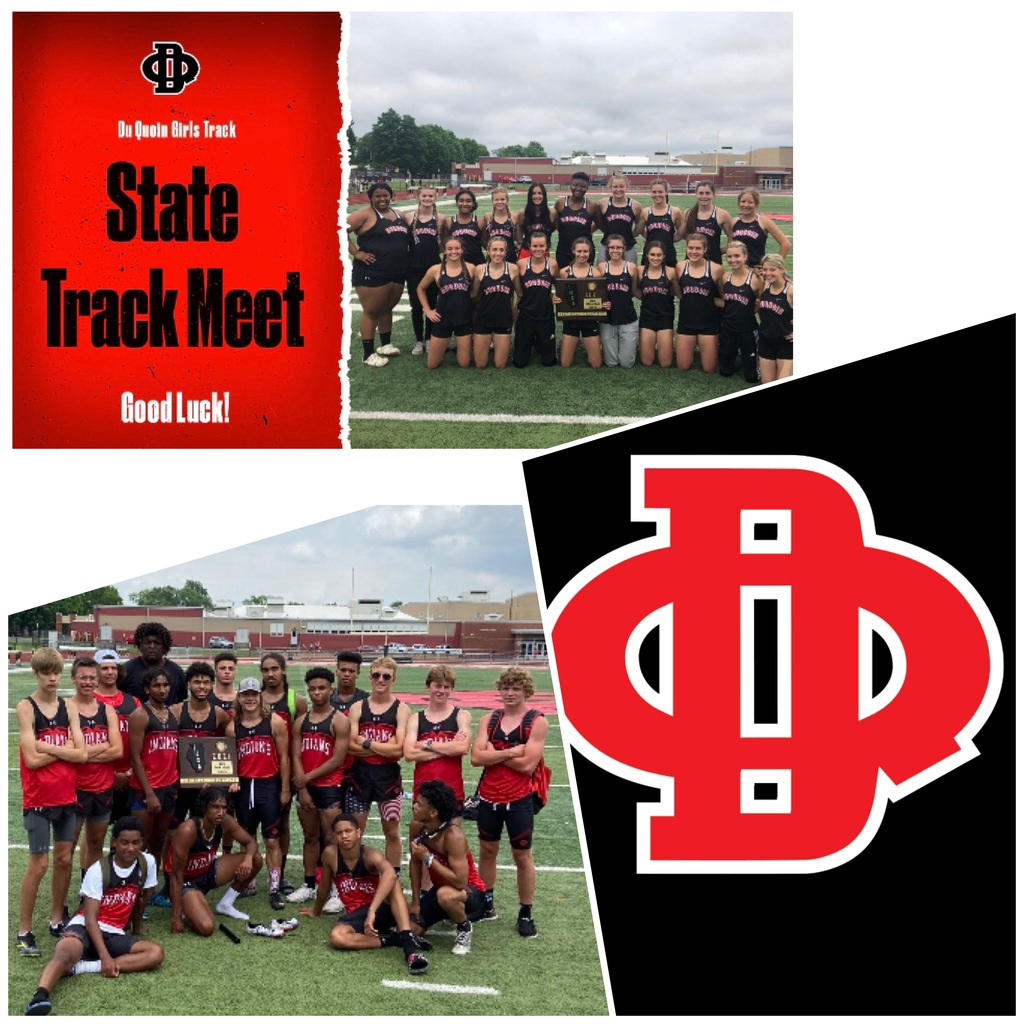 JOB POSTING: School Secretary/Bookkeeper We are currently seeking applicants for a secretary/bookkeeper to work in the Du Quoin High School office. This is a permanent full-time position at Du Quoin High School which will begin in late July. Applicants must have a high school diploma and have the following prerequisite skills: -Excellent communication skills (written and verbal); -Word processing skills (preferably in Microsoft Office); -Bookkeeping skills; -School office management data experience preferred; -Professional demeanor and attitude, along with being trustworthy and respectful of highly confidential material and information; -Highly efficient and effective phone etiquette skills; -Multi-task oriented; -Able to handle difficult, and at times, hostile situations professionally and effectively. To apply, please complete a Support Staff Application. A District 300 Support Staff Application can be accessed and downloaded from our website at this link:
http://duquoinil.apptegy.us/o/duquoin-cusd-300/browse/53919
or picked up from the District Office. Applications may be returned by e-mail to Administrative Assistant Denise Hirsch at
dhirsch@duquoinschools.org
or turned in at the District Office at 845 E. Jackson St. Applications should be turned in by 3:00 PM on Monday, June 14, 2021. If you have any questions regarding the position, please call the Du Quoin CUSD 300 office at 542-3856.

This is a friendly reminder that our summer meal program starts today and will operate Monday-Friday until July 30th. Meals are free to everyone 18 years of age and under. For those 19 and up, breakfast is $1.00 and lunch is $2.00. Du Quoin Elementary/Middle School will serve an in-person breakfast from 8:00-9:00 AM and a hot lunch from 12:00-1:30 PM each weekday. An image is attached with this week's menu for these meals. A breakfast/lunch grab & go bag is also available. The grab & go meals will be available at Du Quoin Elementary/Middle School from 9:00-11:00 AM and also at sites in the community at the following locations/times: -Perry County Housing at 519 N. Walnut from 10:00-10:30 AM -Du Quoin City Pool from 10:45-11:15 AM -Keyes Park from 11:30 AM-12:00 PM Look for our gray van at these locations with our summer food programs signs on it. An image is attached with this week's menu for grab & go meals. We look forward to getting our summer food program started this week!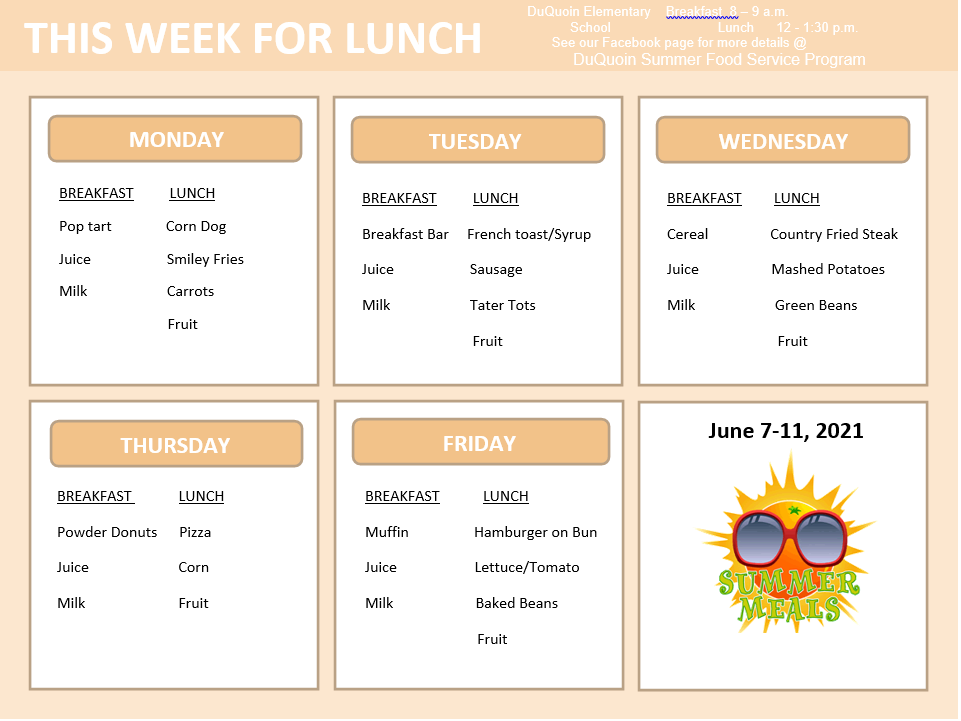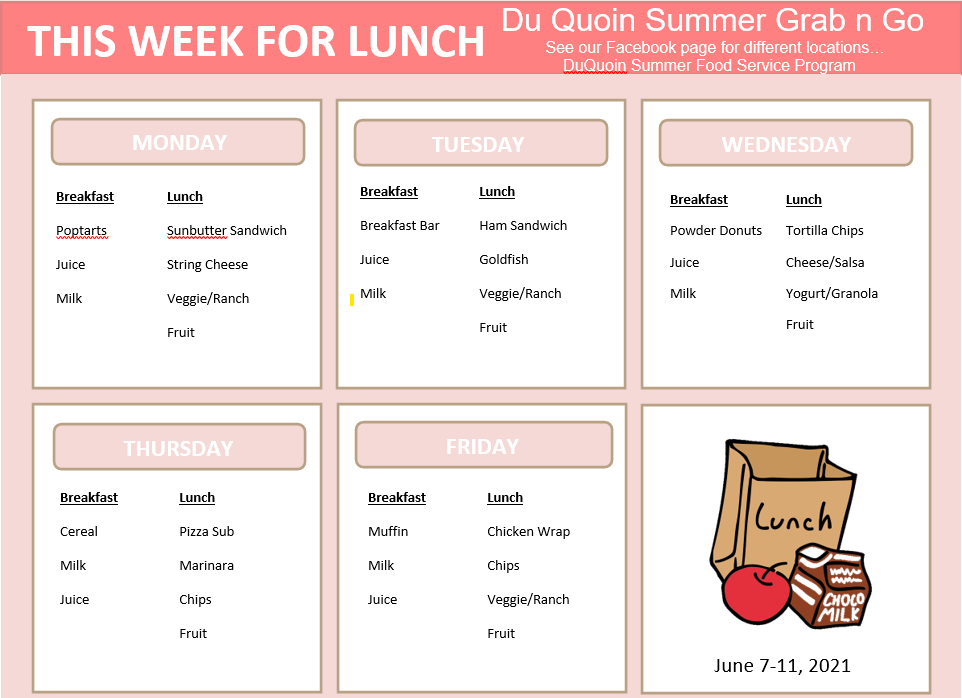 This message is being shared to District 300 families on behalf of the Perry County Health Department: A friendly reminder that COVID-19 vaccination clinics will be held each week for the next 5 weeks at the health department. See the image for specific dates and more details. Thank you!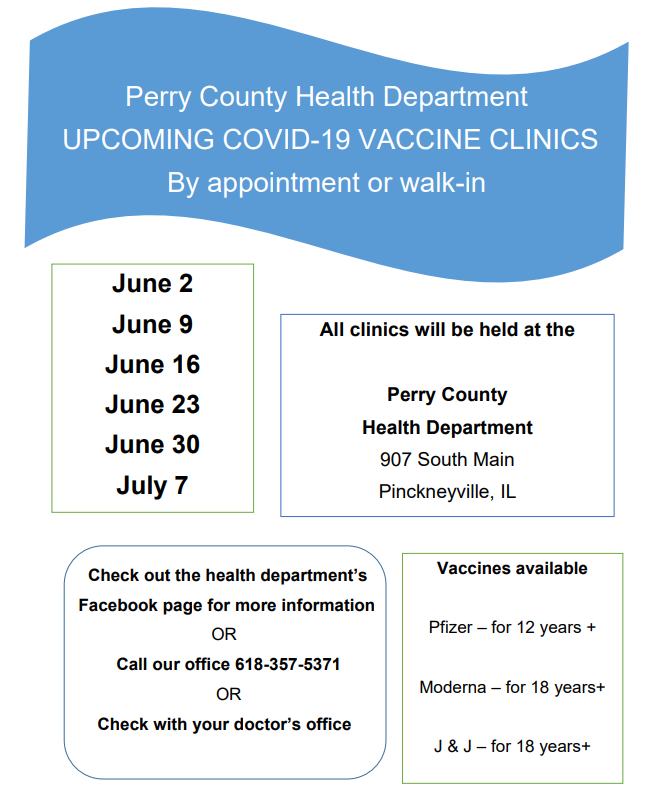 Monday, May 17 is T Day on our calendar countdown. Student may bring a stuffed Teddy or other stuffed animal for reading time.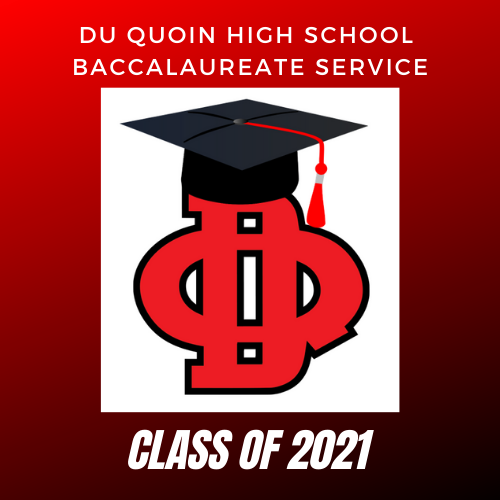 Friendly reminder: Friday, May 14 is Sunglasses and Silly Socks Day at DES!

The PTO would like to say thank you to our community, principals, librarians, office staff, maintenance, teachers and of course our students, for making the spring book fair an amazing success!!! 🥰 The elementary and middle school libraries were each able to add 50 new books for the students to enjoy! A special thank you to all the volunteers for donating your time to help out. 💕 We hope everyone has a wonderful and healthy summer! 🌞

Last Friday we showed our appreciation for our food service workers in recognition of School Lunch Hero Day. We appreciate everything they do for our students!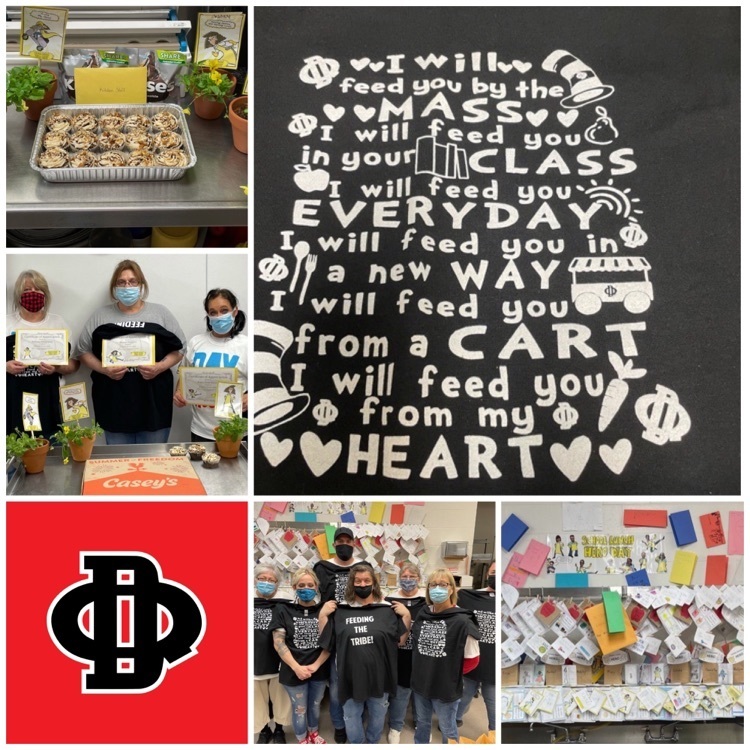 Our food program was awarded a prize package worth $200 for participating in National School Breakfast week! Teachers in the elementary school were invited to participate in a milk drinking competition. They kept track of each carton and at the end of the week the winner was Darcy Gossett's 1st grade class. Shout out to our Food Service Director Donna Lively and our kitchen staff for your work in providing student breakfasts!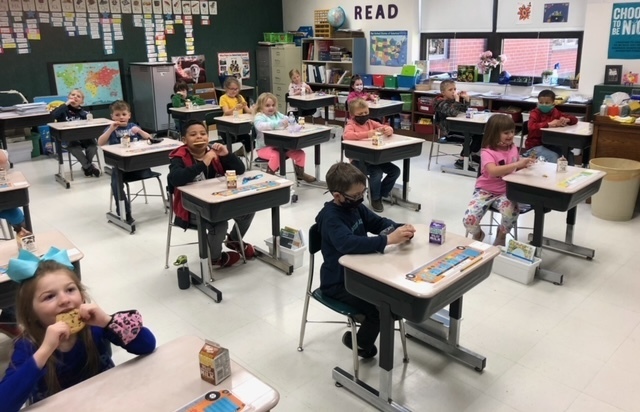 At Du Quoin Community Unit School District 300 our motto is, "Working Together for All Students". We are asking for the help of former Du Quoin students to inspire and empower our current students by sharing your personal success story. We would like you to reflect on your years in Du Quoin schools to find at least one favorite memory. Perhaps that memory was one that inspired your current career, includes stories of your favorite teacher, coach, or mentor, or is made up of friendships that have lasted your lifetime. Whatever your success and favorite memory, we want to share your story! To collect these stories, we have created a simple form which asks for some basic information along with the favorite memory and advice for current Du Quoin students. The main objective is to share these success stories and advice with our students, but we will certainly utilize our means of communication to share them with the community at large as well. We know there is no shortage of positive stories to tell. You can access the Du Quoin Stories of Success form at this link:
https://forms.gle/JdQETG2VsuiAmVhY7
We are looking forward to hearing from our alumni!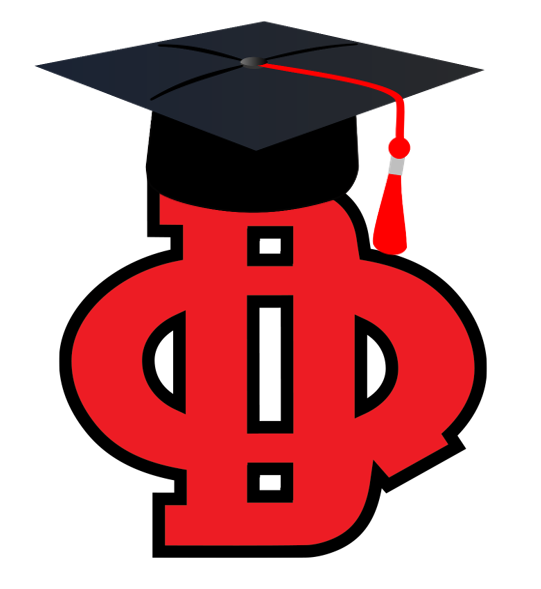 We are currently seeking applicants for a PE teaching position at Du Quoin Middle School for the 2021-2022 school year. Applicants must be licensed to teach PE in Illinois schools or have a pending license to do so. To apply, a District 300 Licensed Staff Application must be completed. This application may be requested by e-mailing Administrative Assistant Denise Hirsch at
dhirsch@duquoinschools.org
. Applications must be turned in no later than 3:00 PM on Friday, May 14, 2021. If you have any questions regarding the position, please call the Du Quoin CUSD 300 office at 542-3856.