We are pleased to announce the Educator of the Month awardees for the month of January. These educators acquired many peer recommendations applauding their dedication and relentless mindset to serve our students and community with pride. These educators truly embody the spirit of our mission of "working together for ALL students" and are an encouragement to others in which they work and teach.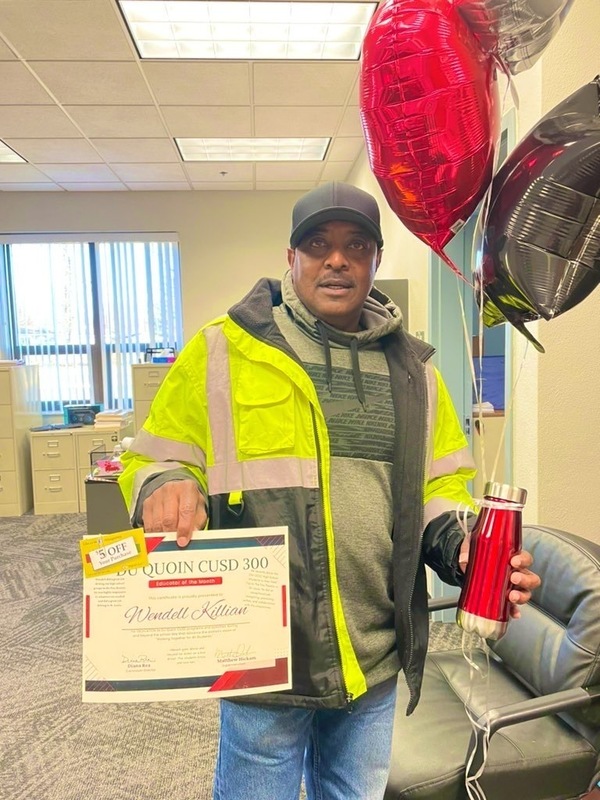 Pictures (L-R): Wendall Killian, First Student bus driver; Sarah McKinnies, high school Ag teacher; and Tena Rennison, elementary secretary.
Mr. Killian is being recognized for going above and beyond knowing and caring for all his riders. During a recent field trip to St. Louis, one of the chaperones celebrated him in her recommendation, "He did an exceptional job navigating, promoting safety and collaborating with the chaperones to make the educational experience one of a lifetime for our students!"
Mrs. McKinnies "goes above and beyond for students and staff, reviving the DHS spirit!" Although her first year in the district, Mrs. McKinnies' colleagues feel inspired by all the new ideas and projects she promotes. As noted by one of the peer recommendations, "She is just such a positive influence on us all . . . the Cheer Meister!"

Tena Rennison, in her 25th year in the district, and still going just as strong as her first year. The backbone of the elementary school, Tena truly loves her home community and is dedicated to all things Du Quoin. Always ready with a smile or a hug, Mrs. Rennison puts others needs ahead of her own. "She's a Rockstar in the elementary " and appreciated by all who's life she has touched!
Congratulations to all!