Du Quoin CUSD #300 continues to look for unique opportunities to help our educators build content expertise and grow their practice to meet and challenge students. This year the teachers who work in our the gifted program, Rachel Tilley, Kimberly Loyd, Jennifer Craft and Brittany Goldman participated in a day-long writing workshop with guest speaker and children's author, Shannon Anderson, focused on creative writing. The result . . . the teachers helped students compose their own book using a program called Studenttreasures and 10 of our student's books were selected for the National Book Challenge awards! The books were judged based on originality, storyline and illustrations.
The National Book Challenge will award 50 finalists and 3 grand prize winners. If selected as a finalist, students will receive a $50 gift card with the top three winners nationally receiving a class set of their book and a school grant prize of $500 to $5000. Finalists and winners will be notified by June 15, 2022. Congratulations and thank you to our teachers for creating a learning environment in which these young writers could experience publishing success!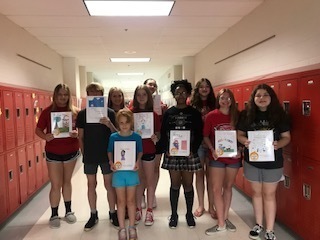 Pictured are students with their individually written and illustrated books who were selected as semi-finalist in this national competition. Students from Mrs. Goldman's 8th grade class are (L-R) Kenadie Hutchens, Trace Williams, Ava Gregory, Grace Saucier, Paige Mugford, Tavia Butler-Williams, Raina Hawkins, Reagan Rodely and Addison Willis. Semi-finalist from Mrs. Tilley's 2nd grade class is Addi Jones, picture in front row. We are proud of you, students, and wish you all the best in the next level of the competition toward being selected as a finalist in the #NationalBookChallenge.