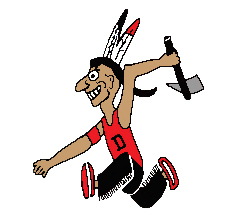 DHS Announcements February 22, 2021
Denise Woodsides
Monday, February 22, 2021
DHS DAILY ANNOUNCEMENTS
Monday, February 22, 2021
Today's Lunch: Pizza sub, marinara, broccoli with ranch, and fruit
Tomorrow's Breakfast: Muffin, fruit, juice, and milk
Tomorrow's Lunch: Ham and cheese sandwich, cucumber salad, and fruit
Reminder, Arrow High is offering homework help and additional tutoring from 7am-7:30 in Mr. Jones'
room Monday through Thursday. If you are in need of homework help or tutoring while remote, please
let Ms. Kelly know.
Just a reminder that you can get WiFi at the following locations: IE Parking Lot, Public Library, and the
Parking Lot in front of New Wave.
SENIORS: ALL seniors are required to complete the FAFSA or sign and return the ISBE waiver form as a
graduation requirement. Please complete the FAFSA or return your signed waiver form as soon as
possible. Thanks!
Football workouts have begun. Workouts will be on Monday and Wednesday every week until official
practice starts. Bring your helmet, cleats, and your own water.
Congratulations to our January student of the month nominees and winners: The nominees were:
Summer Woodside, Adrianna Dunn, Tailer Simmons, Jacqueline Crain, Jackson Harsy, Nishan Woody,
Summer Miller, Kierra Harris, Kayla Thomas, Blair Helbig, Brady Knapp, Reagan Dorsey, Dena
Rendleman, and Ella West. The winners are: Reagan Dorsey, Nishan Woody, Brady Knapp, Summer
Woodside. Nominees and winners, please stop by the office for your prizes.
Tryouts for the radio play will now be held on Tuesday, March 2. If you would like to keep your same
time, change your time, or add yourself to the current list, please do so this week.
For anyone playing baseball this year, there will be an information meeting and workouts on Tuesday at
3:30. Workouts will also be Friday at 1:30.
FCCLA--Congratulations to the 2021 Sweetheart King and Queen--Konner Harris and Adalyn Darnell.
Thank you to all of those in the Sweetheart Court--you were fabulous yesterday! Thanks for following
strict guidelines and being understanding! I appreciate all that you do!!!! As soon as sunglasses are in--
we will get them distributed!
Girls and Boys Basketball, Cheer and Indianette pictures are Wednesday, Feb 24 starting at 1pm. We will
take group and senior pictures only.