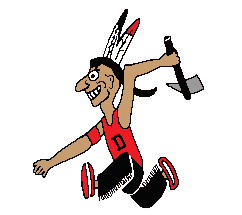 DHS Announcements December 2, 2019
Denise Woodsides
Monday, December 02, 2019
DHS DAILY ANNOUNCEMENTS
Monday, December 2, 2019
Today's Lunch: Ravioli, green beans, carrots with dip, garlic bread, and fruit
Tomorrow's Breakfast: Sausage biscuit, fruit, juice, and milk
Tomorrow's Lunch: Nachos with beef, refried beans, corn, and fruit
Attention class of 2020: Senior shirts are in! You may pick up your senior shirt in Mrs. McPherson's room BEFORE school (you cannot pick up your shirt during class). Also, you must pick up your shirt IN PERSON. No one is allowed to take another student's shirt. Thank you!
The after school program on Tuesdays and Thursdays will begin meeting in Mrs. Sims' room starting Tuesday, December 3.
There will be an Art Club meeting Tuesday, December 3rd in the art room after school.
There are only 200 Eiffel bonbons left. Make sure to buy yours before they are gone for the year. See Mrs. Dunavan or a participating French member for your purchase.
There will be an NHS meeting on Wednesday @ 7:30 a.m. in Mr. Jones' room.
There will be an Engineering Club meeting on Thursday @ 7:15 a.m. in Mr. Jones' room.
Seniors, please come to the office to complete a form for the name that will be on your diploma. The name must be your given full name since your diploma can be used as a legal document.
The next Educators Rising meeting will take place on Wednesday, December 4th during ELT in Mr. File's room.
Congratulations to our Co-Ed Competitive Cheerleading Team for their 1st place and qualifying score on Sundays ICCA competition in Alton. The cheer team competes again Sunday at Pinckneyville High School. Go Tribe!
Our Beartown book club meeting has been moved to Wednesday after school. Please see Ms. Mabrey if this will not work for you.