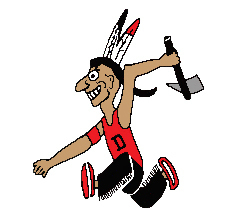 DHS Announcements November 26. 2019
Denise Woodsides
Tuesday, November 26, 2019
DHS DAILY ANNOUNCEMENTS
Tuesday, November 26, 2019
Today's Lunch: Softshell taco, corn, and fruit
Monday's Breakfast: Pancakes, bacon, fruit, juice, and milk
Monday's Lunch: Ravioli, green beans, carrots with dip, garlic bread, and fruit
Students-Miss Du Quoin Pageant information is now available in the guidance office. This pageant is open to all high school students grades 9-12. College scholarship money is available for the top three finishers.
Attention DHS- Hype Squad, also known as Pep Club, is hosting their first ever Holiday Door Decorating Contest. Which first hour class can come up with the best holiday door design? Prizes are at stake for the winning room. Ask your first hour teacher for details!
Attention class of 2020: Senior shirts are in! You may pick up your senior shirt in Mrs. McPherson's room BEFORE school (you cannot pick up your shirt during class). Also, you must pick up your shirt IN PERSON. No one is allowed to take another student's shirt. Thank you!
The after school program on Tuesdays and Thursdays will begin meeting in Mrs. Sims' room starting Tuesday, December 3.
Thank you for donating to our local food pantries. We collected a total of 3201. Mrs. Winter's class collected the most with 589 items collected. Thank you so much for helping feed our local families in need during this holiday season.
Congratulations to the Lady Indians for earning a share of the Tip-Off Classic Championship. They finished with a 3-1 record. Congrats to Delaynie Dearmond, Ayanna Dunklin, and Lauren Heape for earning all-tournament team honors.
Applications for Educators Rising are due to Mr. File by the end of the day today. Please turn those in to Mr. File as soon as possible.
FCCLA members--- M & M tubes are due by December 2nd. That is next Monday. Please be sure to drop yours off by then. Use this weekend to fill them up when you see family. Remember--no more than 8 quarters from any one person per day. Reminder--this money goes to the food pantry for perishable food items. This is the November Community Service.
Weekend Warrior Students: Pick up your bags in the library before you leave today!
There will be a Book Club one week from today, December 3, to discuss our novel Beartown. We will have snacks and a special guest-see you then!
FBLA Members: Please stop by and pick up a coloring sheet from Room 112. Each sheet is worth 10 points. These must be turned in by Monday, December 2.
There will be an Art Club meeting Tuesday, December 3rd in the art room after school.
There are only 200 Eiffel bonbons left. Make sure to buy yours before they are gone for the year. See Mrs. Dunavan or a participating French member for your purchase.