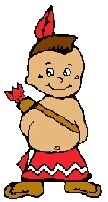 Papoose News 08.21.19
Diana Rea
Wednesday, August 21, 2019
Dear DES Families,
Welcome to the 2019-2020 school year. We appreciate all the families who participated in the Back-to-School Night and Kindergarten Bear Hunt Orientation. This has been, by far, the most successful start for our newest students to the elementary campus! We appreciate you working with us to make that transition back into "school mode" supportive and positive.
As we progress throughout the school year, please watch for a weekly newsletter by email and posted to our website/social media with important information concerning our journey together. Newsletters will not be printed to send home, so it is critical to keep your email
address up-to-date to stay consistently informed. Next week we will have information on our new positive behavior program called Choose to Be Nice. Watch for more information and a whole school assembly, including families, to jump start our movement tied around choosing to "be nice."


Remember to follow pick up and drop off procedures. In the morning, the bus lane is closed for buses until 7:40 a.m. At dismissal, please park and walk to the sidewalk in the back to pick
up your student. Do not drive through the drop off lane.
Check us out on our website:
https://www.duquoinschools.org...
Instagram @despapoose Twitter @DESPapoose
Facebook page @duquoinelementary


Diana Rea, Principal


Our Mindset is Success, because our #kidsdeserveit!
For a list of all events go to https://www.duquoinschools.org/events and our menu can be located at https://www.duquoinschools.org/dining