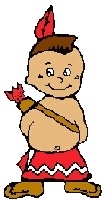 Welcome Back Papooses! 2019-2020
Diana Rea
Friday, August 09, 2019
Dear Du Quoin Elementary Students and Parents,
Welcome back Papooses! On behalf of our entire staff, I would like to welcome our new kindergarten students and our returning first, second, third and fourth grade students! I hope you have had a great summer and are looking forward to an inspiring school year.
Let me begin by introducing myself! My name is Diana Rea, and I will be your principal! I am thrilled to welcome you to the 2019-2020 school year, and am looking forward to meeting new faces, revisiting with familiar ones, as well as hearing all about your summer adventures! For those of you who have not met me, I taught in Illinois, Mississippi and Georgia for 23 years and have been in administration for the past 7 years. Currently, this is my sixth year as the Principal at Du Quoin Elementary, and I am looking forward to another great year together. I still get just as excited about the start of school as when I was a student and I love being Principal of DES!
Back-to-School Night will be August 14th from 6:00 pm – 7:30 pm. We invite you to come and take the opportunity to visit your child's classroom, meet their teacher, and put away school supplies. This is an open house event and parents are encouraged to come during the time that works best for you and your family. Our first day of school for 1st—4th grade is Thursday, Aug. 15, 2019.
I would also like to extend a special welcome to our incoming Kindergarten students who are new to our school. This class of 2032 is a welcome addition to our Papoose community, and I can not wait to get to know them. Kindergarten students will attend a uniquely designed family Bear Hunt orientation day with a parent either on Thursday, Aug. 15 or Friday, Aug. 16 to learn everything you need to know to make this year successful and get your questions answered. Please refer to your welcome to Kindergarten letter for more details.
Our teachers and support staff have spent hours preparing materials, creating child-centered classrooms, and reviewing data. The rooms are beginning to look amazing! Secretaries have registered new students and organized new materials. Mr. Alvarado, our Dean of Students, has been working to update all our playground equipment and ensure all the supplies are ready for the start of the school year. I would like to offer my sincere thanks and appreciation to our custodial staff. They worked diligently throughout the summer to clean and ready the school. Additionally, facility updates took place and are continuing to happen as we speak to ensure we are cool during the hot months and warm in the cold months!
We are very much looking forward to watching the students return off of the buses and out of cars and to have the hallways filled with the hustle and bustle that has been absent all summer. We have missed their smiles and sounds of laughter in our building and can't wait to hear students swap stories about summer and show off new backpacks and school supplies. Please be sure to check your child's backpack nightly as well as the Du Quoin Community Unit School, District 300 website, https://www.duquoinschools.org/ for notices and updates.
As excited as I am to offer this welcome letter, it is the face-to-face interactions that I value most. Please know that we have an open door policy, and welcome any opportunity to meet with you. We are looking forward to our collaboration in providing a safe, nurturing and engaged learning environment filled with opportunities to think, explore and achieve new academic heights!
As our motto states, We are DES! Our MINDSET is Success! This will be a year of wonderful DISCOVERIES!
Sincerely,
Diana Rea, Principal
Below are just a few of our frequently asked questions as well as upcoming events...
What are the school hours?
Regular Day: 7:45 AM - 3:00 PM Half Day: 7:45 AM - 11:00 PM Early Closing: 7:45 AM - 2:00 PM Tardy Bell: 8:05AM
· Back to School Night is Wednesday, Aug. 14 from 6:00-7:30PM
· Kindergarten will be in Bear Hunt orientation either Thurs., Aug. 15 or Fri., Aug. 16
· Kindergarten will start full day session on Monday, Aug. 19!
· Early dismissal Aug. 15—Aug. 23 at 2 PM