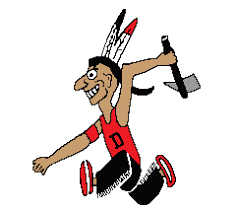 DHS Announcements May 14, 2019
Denise Woodsides
Tuesday, May 14, 2019
Today's Lunch: Chicken patty, broccoli with dip, corn on the cob, and peaches
Tomorrow's Breakfast: French toast sticks, sausage, fruit, juice, and milk
Tomorrow's Lunch: Chicken and noodles, mashed potatoes, carrots, and fruit
Seniors: Please stop by guidance and fill out the scholarship folder or turn in your list of the scholarships you have received to Mrs. Gross-Woodside.
Seniors: Once you have determined where you will be attending college please stop by guidance and sign the list stating where you want your FINAL transcript to be sent.
Arrow Academy is looking for junior or senior members of FBLA, FCCLA or NHS to tutor in the after school program with 1st, 3rd, 4th, 5th, and 6th grades. These are paid positions. Please contact Miss Kelly if interested in any of these opportunities to set up an interview.
2019 Annual Girls All Sports Banquet and Dinner, Monday, May 20th at 6:00 pm in the DHS Commons. Admission is free for female athletes, coaches and former winners. Everyone else - $10.00. Please RSVP to Denise Hirsch at dhirsch@duquoinschools.org or 618-542-4744 ext. 2155.
SENIORS, Get your library fines paid ASAP! If you are not sure if you owe anything, stop by the library to check and see, and also Mr. Summers has a list.
Students, preregistration packets were handed out last week. Please return packets to the office before the end of this school year. By returning this packet now, you can avoid coming in for summer registration.
Students that are wanting to be a huddle leader for FCA Camp in June, but were unable to attend the FCA meeting earlier this week need to see Coach File or Coach Boyett to sign up.
Congratulations to the Student Council Officers for the 2019-2020 school year.
President Olivia Dill, Vice-President Olivia Chapman, Secretary Mya Cross, Treasurer Bailey Nehring. Senior Representatives: Gabrielle Alongi and Alexis Kremer, Junior Representatives Shakyrah Bledsoe, Delaynie Dearmond, and Maya Russell, Sophomore Representatives Gabi Alongi, Lexi Cobin, Aubrey Harris, Avery McClanahan, Abbi Mocaby, Olivia Phillips, Brenna Provart, and Jalynn Wood
There will be a meeting in the auditorium during ELT today for any male interested in playing football this fall.
Art Club meeting Thursday, May 16th after school. We will be taking down the remaining art show decorations and discussing end of the year activities.
Juniors- If you are interested in taking Summer Government. There will be a short meeting during ELT today (Tuesday, May 14th)
Child Care students--be sure you have checked your school email for information from Mrs. Stacey.
Girls track team members please turn in your uniform to Mr. Kirkpatrick by this Friday.
First round of softball regionals today! Bus leaves 2:30, please dismiss at 2:15