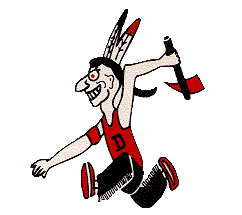 DHS Announcements April 12, 2019
Denise Woodsides
Friday, April 12, 2019
Today's Lunch: Hamburger, smiley fries, broccoli with cheese, and fruit
Monday's Breakfast: Breakfast pizza, fruit, juice, and milk
Monday's Lunch: Ravioli, green beans, salad, garlic bread, and fruit
There are tickets for the Foundation Dinner for sale in the office. Tickets are $15 each.
Seniors: Please stop by guidance and fill out the scholarship folder or turn in your list of the scholarships
you have received to Mrs. Gross-Woodside.
Seniors: Once you have determined where you will be attending college please stop by guidance and sign
the list stating where you want your FINAL transcript to be sent.
Prom 2019 will be Saturday, April 27th from 7:00-10:00 p.m. at the Second Heat in the Fairgrounds. The
theme is a Night in Paris. Prom tickets are now on sale. The cost is $15 per ticket. Students can pick up
the agreement/permission form in the office. Students must purchase tickets before April 17th to
guarantee a prom T-shirt.
Dental Safari will be at the high school on Wednesday, April 17. Nurse Amy sent out an email earlier with
the permission slip and a link to sign up online. However, there are also consent forms in the office for
anyone who may need a paper copy.
Congratulations to our March student of the month nominees: Haylie McIntosh, Vianey Sanchez, Erica
Taylor, Hunter Hill, Addison Carver, Cameron Shivley, Carlie Schubert, Aubrey Harris, Emme Darnell,
Hunter Carter, Leah Williams, Garrick Blevins, Landen Swiney, Nathan Sanford, Shaynna Caraker, Toby
Hottes, and Ashlynn Jackson. The winners are: Carlie Schubert, Aubrey Harris, Emme Darnell, and
Garrick Blevins. Please stop by the office for your prizes.
Congratulations to our teacher/staff member of the month, Mrs. McKinney.
It's here: High School Musical will be performed at Du Quoin High School this Friday, Saturday, and
Sunday. Times are 7 pm Friday and Saturday and 2 pm Sunday. Tickets are on sale now in the main office
and can be purchased at the door for $8.
Art Club will have a meeting Tuesday, April 16th after school to work on art show projects.
Seniors, if you ordered Balfour items, those items have arrived and are available in the office.
Congratulations to the following 2019 Prom Court: Megan Dale, Meryn Gross, Chloe Hill, Alyssa Loyd,
Katie Smith, Shamar Adams, Josh Heape, Trevor Eubanks, Mason Hilliard, and Nathan Sanford.
Congratulations to the following Junior Attendants on Prom Court: Jacob Green, AJ Rice, Alex Zimmerman,
Gabby Alongi, Lauren Cravens, and Kloey Harsy. These Senior and Junior students need to meet at 7:40
on Friday, April 12th in the Driver Education Room for pictures and to complete the questionnaire for
Prom Coronation.
Friends of Rachel club will be meeting Monday 4/15 after school in the auditorium. We will be planning
for Day without Hate.
Scholarship Section
Seniors: John A. Logan College scholarship application deadline is April 27th. No late applications are due