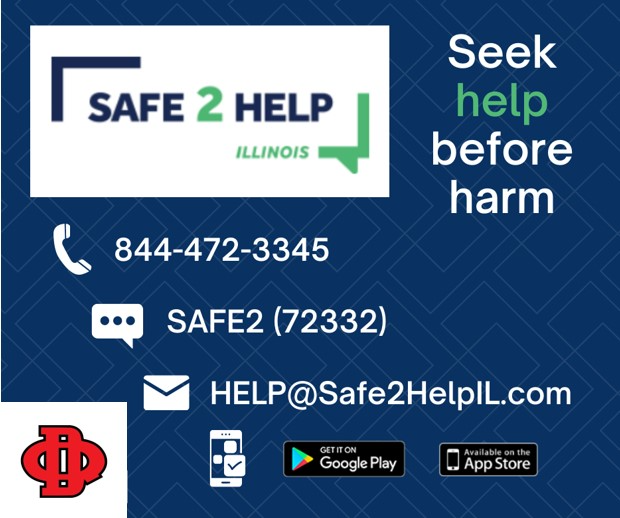 Safe2Help Illinois
Safe2Help Illinois is a 24/7 program where students can use a free app, text/phone, website (Safe2HelpIllinois.com) and other social media platforms to report school safety issues in a confidential environment. Once vetted, the tips will immediately be shared with local school officials, mental health professionals and/or local law enforcement, depending on the nature of the tip. The program also will help local officials by connecting them with mental health resources or other appropriate resources to intervene and help students before they harm themselves or others.
Perry County Counseling Center
Help is only a phone call away! If you feel that you are in crisis, please call the Perry County Counseling Center's 24-hour Crisis Hotline at: 618-542-HELP (618-542-4357)
National Suicide Prevention Lifeline: 1-800-273-8255
We can all help prevent suicide. The Lifeline provides 24/7, free and confidential support for people in distress, prevention and crisis resources for you or your loved ones, and best practices for professionals in the United States.
The Lifeline and 988
988 has been designated as the new three-digit dialing code that will route callers to the National Suicide Prevention Lifeline. While some areas may be currently able to connect to the Lifeline by dialing 988, this dialing code will be available to everyone across the United States starting on July 16, 2022.
Crisis Text Line
Text HOME to 741741 from anywhere in the United States, anytime. Crisis Text Line is here for any crisis. A live, trained Crisis Counselor receives the text and responds, all from our secure online platform. The volunteer Crisis Counselor will help you move from a hot moment to a cool moment.