2022 SIJHSAA Class S & L Cross Country Meets Information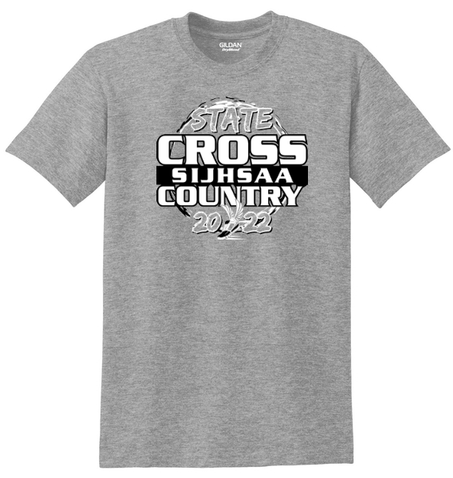 Link to all information needed for the 2022 SIJHSAA State Cross Country Meets
SIJHSAA
Class S & L State
Cross Country Meet
Date: Saturday, October 15, 2022
Class S
8:00 – Gates Open
8:30 – Course open for walk through
9:30 – Coaches meeting
9:40 – Course closed
10:00 am – Girls
10:30 am – Boys
Awards Following
Class L
11:30 – Gates Open
12:00 – Course open for walk through
1:00 – Coaches meeting
1:10 – Course closed
1:30 pm – Girls
2:00 pm – Boys
Awards Following
T-Shirts
 Commemorative t-shirts may be ordered online and picked up at the meet site. T-shirts will be pre-packaged with the option for meet pick
up or shipped to home.
 https://statecrosscountry2022.itemorder.com/
 The deadline for ordering will be October 11, 2022.
Eligibility Sheets: Must be turned in to the race manager before the meet begins.
Registration for Meet: Class S & L regional meet managers MUST register qualifiers by October 11, 2022. Meet managers have been sent google
sheets link.
Timing: RFID timing by ChampionChip/247
Race Results: link will be forwarded once created
Starting boxes: Starting boxes will be assigned prior to race day
Spectator Entrance: Gate #1 (main fairgrounds entrance) on US Highway 51.
Gate #4 –Pre-Paid Admission ONLY
Spectator Parking: Parking will be marked and attendants will instruct where to park. Handicap parking is available - with a valid tag
displayed.
Bus Entrance and Parking: Buses will enter Gate #4 using Jackson St. Bus parking will be assigned upon drop off of teams.
Buses may exit gate #4 or gate #1 at the conclusion of the meet.
NO PETS OF ANY KIND ALLOWED IN FAIRGROUNDS DURING MEETS
Admission: $5 - Adults (9th grade and up) $2 Students (8th grade and down)
Pre – Purchase Admission at these links
Class S - https://gofan.co/app/events/718116?schoolId=IL21291
Class L - https://gofan.co/app/events/718120?schoolId=IL21291
Spectators: Spectators MUST remain off of marked course. Spectators are not allowed in starting area or finish corral.
Concessions Provided
Awards and PA's: Team Award Presentation will take place at the conclusion of both races. Team and individual awards will be distributed to
coaches.
Officials:
 Mark North
 David Willmore