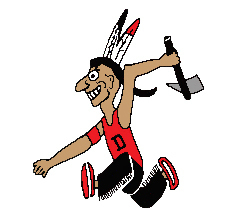 DHS Announcements March 8, 2019
Denise Woodsides
Friday, March 08, 2019
Today's Lunch: Chicken patty, broccoli with cheese, carrots with dip, and pineapple
Monday's Breakfast: Muffin, fruit, juice, and milk
Monday's Lunch: Lasagna with cheese, salad, garlic bread, and an orange
The following people still need to turn in their jerseys to Mrs. Bush:
Chloe Prather
Olivia Whitley
Toby Hottes
Ashton Coffel
and any cheerleaders who have not returned them.
There are extra boxes of taffy for sale! See Mrs. McKinney before school/after school/during ELT.
If students are planning to order a yearbook, they have until March 13. There is a list on the office windows of who has ordered as of Thursday, February 28.
If you would like a fish sandwich for lunch on Fridays, please call the office or the cafeteria.
Congratulations to our Student of the Month nominees: Heaven Norris, Cyerrah Harris, Ethan Hill, Alexis Blaylock, Nathan Smith, Shelby M. Harris, Reese Tilley, Lindsey Morgan, Courtney Gossman, Austin Booker, Michael Lynd, and Chance Genesio. The winners are: Alexis Blaylock, Nathan Smith, Shelby M. Harris, and Chance Genesio. Please stop by the office for your prizes.
Seniors: Illinois Sheriff's Association Scholarship Application is available in the guidance office folders or online at www.ilsheriff.org (Scroll to the bottom of the home page, locate ISA College Scholarship on lower left and choose "learn more"). Application is to be returned to Perry County Sheriff's Office by March 15th.
The Winter Sports Banquet will be on Tuesday, March 12th at 5:30 in the cafeteria.
Help celebrate World Down Syndrome Day on March 21st by wearing your crazy socks.
Congratulations to Mr. Potts for being the teacher/staff member of the month!!