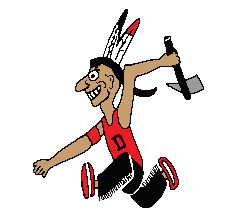 DHS Announcements March 1, 2019
Denise Woodsides
Friday, March 01, 2019
Today's Lunch: BBQ rib patty, smiley fries, celery with ranch, and applesauce cups
Monday's Breakfast: Cheesy egg breakfast, toast, fruit, juice, and milk
Monday's Lunch: Biscuit and gravy, sausage, tater tots, applesauce, and dragon punch
On Wednesday, March 6th Driver Education students can attend the Williamson County Traffic Safety Days field trip. The field trip is in Marion and students will deepen their knowledge on common Driver Education topics. Students will get free lunch and a T-shirt. Any student in Driver Education this school year (2018-2019) is eligible to attend the field trip. *Only the first 50 students to sign up get to attend. Students must sign up in the office and get a permission slip signed by Friday, March 1st.
Students may sign up with any Illinois Democracy Team teacher to participate in the Tug of War contest. The cost for each team to enter is $5. Teams must pay before they will be allowed to compete. There is no set number of participants for a team; however, the combined weight of the team must be 650 lbs or less. Mrs. Miller has a scale for our participants to use. All participants must weigh in at some point and time before competing. The tug of war contests will be today. The winning team will get a Tug of War Champs T-shirt.
Seniors: Reminder that Marshall Browning Hospital Scholarship application is due today. Applications in guidance.
The following people need to turn their throwback jersey in to Mrs. Bush ASAP:
Chloe Prather
Meryn Gross
Bailey Harsy
Emee Darnell
Addy Darnell
Katie Smith
Dylan Thornton
Maci McKinnies
Olivia Whitley
Alyssa Loyd
Toby Hottes
Ashton Coffel
Ashlynn Jackson
There will be a quick Varsity Scholar Bowl meeting today after school.
There are extra boxes of taffy for sale! See Mrs. McKinney before school/after school/during ELT.
There will be an NHS meeting next Wednesday @ 7:30 a.m. in Mr. Jones' room.
There will be an engineering club meeting next Thursday @ 7:15 a.m. in Mr. Jones' room.
As of yesterday afternoon, here's where the penny war points stood:
Freshman 16,697
Teachers 16,145
Juniors 4,092
Sophomores 3,903
Seniors 716
If any student is planning to order a yearbook, they have until March 13. There is a list on the office windows of who has ordered as of Thursday, February 28.