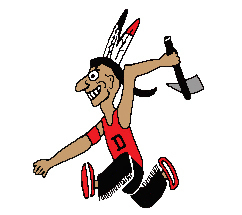 DHS Announcements February 27, 2019
Denise Woodsides
Wednesday, February 27, 2019
Today's Lunch: Chicken strips with sauce, cheesy potatoes, carrots, tropical fruit mix
Tomorrow's Breakfast: Biscuit and gravy, fruit, juice, and milk
Tomorrow's Lunch: Pizza, salad, peas, and oranges
On Wednesday, March 6th Driver Education students can attend the Williamson County Traffic Safety Days field trip. The field trip is in Marion and students will deepen their knowledge on common Driver Education topics. Students will get free lunch and a T-shirt. Any student in Driver Education this school year (2018-2019) is eligible to attend the field trip. *Only the first 50 students to sign up get to attend. Students must sign up in the office and get a permission slip signed by Friday, March 1st.
Students may sign up with any Illinois Democracy Team teacher to participate in the Tug of War contest. The cost for each team to enter is $5. Teams must pay before they will be allowed to compete. There is no set number of participants for a team; however, the combined weight of the team must be 650 lbs or less. Mrs. Miller has a scale for our participants to use. All participants must weigh in at some point and time before competing. The tug of war contests will begin during ELT on Wednesday. The deadline to enter is 3rd hour on Wednesday. The winning team will get a Tug of War Champs T-shirt.
Seniors: Reminder that Marshall Browning Hospital Scholarship application is due by this Friday, March 1st. Applications in guidance.
If you preordered a crepe from French Club, pick up is today in the commons during lunch.
Here are the standings of the Penny Wars class as of Tuesday at 3:15
Freshmen = -600 points
Seniors = + 2,570 points
Sophomores = +4,523 points
Juniors = + 6,604 points
Teachers =+ 27,853 points
So far, combined we have raised $565.80 for the International Justice Mission!
ALL freshman stop by Mrs. Miller's room sometime today for an important announcement regarding FOOD! You won't want to miss it!