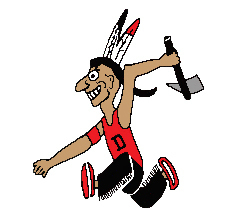 DHS Announcements February 22, 2019
Denise Woodsides
Friday, February 22, 2019
Today's Lunch: Hamburger, broccoli with cheese, smiley fries, and pineapple
Monday's Breakfast: French toast sticks, sausage, fruit, juice, and milk
Monday's Lunch: Ravioli, green beans, salad, garlic bread, and apple slices
FFA Week Run Down:
Today: Drive Your Tractor to School Day - Dress Day is: Overall and Flannel Day.
Seniors: We now have the Eagles James L Booker/Lester J McRoy Scholarship Award application in the Guidance Office. Deadline is April 12, 2019.
Have you ever wanted to try a French crêpe? French club is selling preorder crêpe tickets for $2 now until Monday, February 25. The fillings are banana Nutella, strawberry, blueberry, and apple. See a participating French club member for your preorder. French club will serve the crêpes Wednesday, February 27 during both lunches.
The next FCA meeting will be a joint meeting of Freshmen-Seniors on Monday, February 25th. The meeting will take place in the Drivers Education room for everyone. Please, please, please sign up for pizza and soda so we have plenty. Sign up sheets are in Coach File and Coach Boyett's room.
Sophomore Reminder: All sophomores will be taking the Accuplacer test next week. Testing will be done in groups in the math lab and library lab. Please see the list posted on the bulletin board in the commons area for your assigned time and place. Thanks!
Baseball tryouts will be next Monday & Tuesday. Players trying out must have physical on file.
There will be no after school fitness program next week.
Students: Please return throwback jerseys to Mrs. Bush's room as soon as possible.
FBLA members testing for state need to sign up in Mrs. Gross' room for a test date. Testing begins on Monday, February 25.
Softball starts Monday! We will be on the football field after school until 5:30. Dress warm, softball pants and long sleeves. See you Monday!