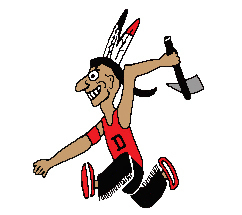 DHS Announcements January 17, 2019
Denise Woodsides
Thursday, January 17, 2019
Today's Lunch: Pizza, salad, green beans, and fruit
Tomorrow's Breakfast: French toast sticks, sausage, fruit, juice, and milk
Tomorrow's Lunch: Hot dog, smiley fries, baked beans, and fruit
Juniors- Murray State University's Commonwealth Academy is now accepting applications for a 3-week academy on campus June 8-29. Students must have a 3.5 GPA and an ACT equivalent score of 25 on either the SAT or PSAT. For more information, please stop in guidance.
Congratulations to our December student of the month nominees: Delaynie Dearmond, Dasani Edward, Yesenia Estrada, Maddison Dorsey, Bobbiann Hamlin, JoeVon Lucret, Brylee Stratton-Sizemore, Brenna Provart, Faith McCormick, Angel Tilley, Madison Matthews, and Ben Harsy. The winners for December are Dasani Edward, Yesenia Estrada, Bobbiann Hamlin, and Madison Matthews. Please stop by the office for your prizes.
Seniors: Illinois Association for Home and Community Education and Perry County HCE are offering three scholarships. IAHCE Member Education Scholarship, Perry County HCE Education Scholarship and Ruth B. Sayre Scholarship (which is offered by IAHCE affiliate CWC). Stop by guidance to learn more.
Seniors planning to major in Physical or Occupational Therapy: Illinois Elks Association online scholarship application is available at illinoiselksccc.org Deadline is March 8th.
Seniors planning to major in Physical or Occupational Therapy Assistant programs: Illinois Elks Association online scholarship application is available at illinoiselksccc.org Deadline is March 8th.
Seniors: SIU Credit Union invites graduating high school seniors to apply for one of five $1,000 scholarships. To learn more about eligibility requirements, or to obtain a scholarship application, visit www.siucu.org/about/scholarshi... or call 618-457-3595. Deadline is March 29th.
Seniors interested in continuing education in the field of Agriculture or Family and Consumer Science: Larry Paszkiewicz Memorial Scholarship applications are available in the guidance office. Deadline no later than April 1.
Any boys interested in swimming in the IHSA state series please contact Coach Beard for information.
ISAC Scholarships for Teachers: March 1, 2019 is the priority application consideration date for the 2019-20 Minority Teachers of Illinois (MTI) Scholarship and Illinois Special Education Teacher Tuition Waiver (SETTW) programs. Students may access these applications via the Applications page of the Students & Parents – During College – Applying for Financial Aid area, as well as via the "Applications" link that appears at the bottom of all pages on the ISAC website. Complete applications received after this date will be considered only if funding (for the MTI Scholarship Program) or available waivers (for the Illinois SETTW Program) remain after all timely complete applicants have been awarded.
Congratulations to all the FBLA winners at Southern Area Conference:
1st Place - Tim Pirtle - Accounting I, Madeleine Cornett - Advertising, Sydney Fleming - Business Law, Elizabeth Davis- Help Desk, Emily Boyett - Introduction to Public Speaking, Madison Worthington - Organizational Leadership, Maddison Dorsey - Sales Presentation, Jon Gomes, Garret Juhl, Reese Rodely - Global Business
2nd Place - Katilyn Simmons - Organizational Leadership, Emelyn Darnell -Securities and Investments, Addison Carver and Cameron Shivley - Hospitality Management, Michael Lynd and Sarah Lynd Management Decision Making
3rd Place - Zachary Lilly - Accounting II, Haley Williams - Client Service, Lovely Dunklin - Insurance and Risk Management, Katie Indorante - Introduction to Financial Math, Blake Spencer and Raylee Carroll - Hospitality Management
Thank you to all attendees for a great job of representing DHS and FBLA!
FCCLA 2019 Sweetheart Court is posted on the FACS doors.
Seniors, make sure to check the spelling of your names for your diplomas before Wednesday, January 30. There is a list in the office window and in each teacher's classroom. If there are any corrections, please let the office know as soon as possible.
Juniors and Seniors: A representative from SEMO will be here Wednesday, February 14th at 9:00 am. Sign up in guidance if you plan to attend her presentation.
FBLA members that would like to work the Chamber Dinner on Wednesday, January 23 need to sign up in Mrs. Gross' room. You will need to wear a white shirt and black pants and should be there by 6:15.