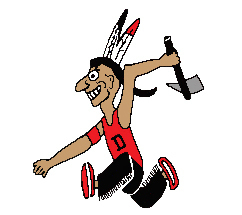 DHS Announcements November 14, 2018
Denise Woodsides
Wednesday, November 14, 2018
Today's Lunch: Sliced turkey, mashed potatoes, gravy, green beans, a roll, and ice cream
Tomorrow's Breakfast: Pancake sausage bites, fruit, juice, and milk
Tomorrow's Lunch: Pork chop patty, peas and carrots, and an orange
There are some extra playoff shirts in various sizes available in the office.
If you had your picture taken on picture retake day, those pictures are in the office.
The boys' basketball team is selling t-shirts. Orders forms are in the office.
There will be a French club meeting after school today. We will make ornaments for the Tree of Lights. Please bring your passport for a stamp.
Balfour will be back again on Friday, November 16 at lunch to take any orders that have not been placed. Seniors, this is the time to turn in any order you may want to place for graduation items and to turn in your height and weight measurements for caps and gowns. Sophomores, if you are interested in purchasing a class ring, this is the time to turn in your order for that.
FCCLA members--M&M tubes are due no later than Thursday morning at 8:00 AM. Please turn them into Mrs. Stacey by that time.
Juniors and Seniors: If you are interested in learning more about St. Louis College of Pharmacy please sign up in guidance to meet with the representative on Thursday, November 15th at 9 a.m.
A very big thank you to all the teachers and students who helped with our can food drive. We collected 3326 items. Mrs. Geiger, Mrs. Davison, Mrs. Winter, Mrs. Stacey, Mrs. Piotrowski, and Mr. Huntley killed it this year!!! Thank you for helping those in need in our community!
Art Club meeting Thursday after school. We will be discussing upcoming events: holiday party, gift exchange, art show and other activities.
This is the last week for Eiffell bonbons. We have mostly green apple left with a few blue and one watermelon. See a participating French club member for your purchase.
Congratulations to our student of the month nominees: Nick Depyatic, David Gomes, Sarah Lynd, Timothy Arview, and Olivia Whitley. The winners for October are: Nick Depyatic, David Gomes, Timothy Arview, and Olivia Whitley. Please stop by the office for your prizes.
FBLA members T-shirt order forms and money are due by Tuesday, November 20. You may turn in to Mrs. Gross, Mr. Boyett or Mrs. Woodsides. Ornaments and snowflakes for the tree are due on Monday, November 26. Any questions please see Mrs. Woodsides.
FBLA members need to register and pay $10.00 by Tuesday, November 27 if you plan on attending Southern Area Conference in January.